Ingredients
Easter cookies:
160
g
butter
, coarsely grated
1250
g
LANCEWOOD® Medium Fat Plain Cream Cheese
Royal icing:
2
extra large eggs
 whites
330
g
icing sugar
, sifted
food colouring
, various colours of your choice
Method
Easter cookies:
Sift the flour, bicarbonate of soda and salt together. Add the butter and use your fingers to rub the butter into the flour mixture.
Beat the cream cheese, milk, egg, sugar and vanilla together. 
Add to the flour mixture and mix to a firm dough. Cover with cling film and refrigerate for 30 minutes. 
Roll out on a floured surface to 3 mm thickness. Cut out shapes using cookie cutters of your choice. 
Place on a baking sheet lined with baking paper and refrigerate. Meanwhile, preheat the oven to 180°C.
Bake in batches for 10 minutes each. Transfer to a wire rack to cool completely before icing.
Royal icing:
Beat the egg whites until foamy.
Add the icing sugar, a tablespoon at a time and mix through. When almost halfway through, start adding the lemon juice. Keep adding icing sugar until the right consistency is achieved. The consistency is right when it is spreadable without being runny and keeps its shape.
Divide the icing into three to four parts and color with food colouring of your choice. Cover the icing with cling wrap until using to prevent the icing from drying out. Should the consistency not be to your liking, add a few drops of lemon juice and mix trough.
Spoon a teaspoon of the icing onto the biscuits and spread out evenly. Place the other colours in piping bags fitted with a small nozzle and decorate the biscuits with patterns of your choice.
Leave to stand to dry out and then store in an airtight container.
Bunny bags:
Place your cookies in these cute bunny bags as gifts.
Items needed per bag:
16 x 30 cm square bottomed brown bag
30 cm piece of string
1 cotton wool ball
1 gift tag
glue
scissors
marker
Method:
Lay the bag flat and fold it in half lengthwise.
Mark the bag as per below image and cut on the marked line.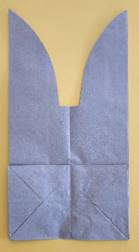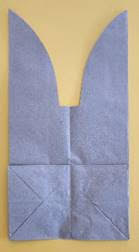 Fill with biscuits and other Easter treats. Scrunch together below the ears and tie with the string.
Attach the gift tag and cotton wool ball to resemble a bunny tail.
Enjoy the celebrations.